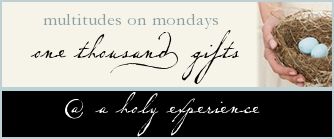 There are so many things to thank God for every day but how many times do we complain instead? In my effort to get back into the habit of blogging, I thought I would try this weekly meme on gratitude. These are a few of the things I am thankful for:

the LORD who is my shepherd and watches over me

my Shepherd who is also the Shepherd of my children and loves them more than I do

Holly who is away at camp and quickly becoming a young woman

Gabriel and Hannah who are far away at college but ever so close to my heart

their summer jobs to help pay for college


my husband who works diligently and loves his job

for God's presence with each one of us no matter where we are


a home - a house with a front and back yard

air conditioning to keep us cool in this oppressive heat

an ice maker that we now have after nearly a decade of being without

music to soothe my soul

the opportunity, ability and desire to homeschool my children

a new school year that is about to begin

the privilege of going boldly to the throne of grace


answered prayer

the promises of God

a piano that survived a trip from Romania and four years in storage

forgiveness

God's mercies which are new every morning
What's on your list?