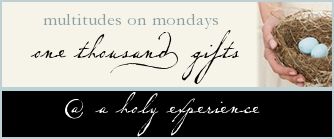 There are so many blessings bestowed on me each day. Each Monday I am listing a few here. This week I am thankful for:
God Who directs our steps when we do not know the way

the peace that passes all understanding


praying together as a family

casting my cares upon Him because He cares for me

God's thoughts towards me that cannot be numbered

and towards my children


God's protection

rain

my mom and dad

and their 52 years of marriage (August 15th)

being raised in a Christian home

my husband who loves me

hugs everyday

a child still at home

housework - because it means I have a home

a cool-ish summer day

God's grace

Salvation freely given

Eternal life through Jesus Christ

A relationship with Almighty God, Abba Father
What are you thankful for?